If you're anything like me you adore a BEAT face. Cue the yass, the gagging and the edges being snatched.
But for me there's NOTHING more important to me than maintaining healthy and acne free skin. Personally I wear makeup to enhance my natural features, but I focus on my skincare because this skin right here.. Ain't going nowhere, we're stuck together fo' life. Might as well take the best care of it right? ESPECIALLY as i'm getting older.
Also I never wanted to be that girl where when I wash off my makeup and have everyone wondering um.. who is this? or even worse my iPhone X not recognizing me.
So the key to being comfortable in your own skin and also having it in it's best condition is to take care of it! That's why once I learned about Nola Skinsentials (which is Black Owned, Cruelty Free & Vegan!) I knew I had to try em out and see what's good… and all of it that's whats good. #SkinByNola
First let's talk about their Pumpkin Enzyme Mask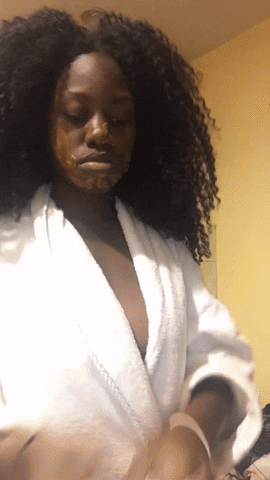 Why wasn't this in my life earlier? I don't know and honestly don't want to live a life with it. I personally have normal/combination skin so in the winter my skin tends to get a little dry. My biggest concerns are staying moisturized and keeping that glow I had during the summer months. And this mask right here is the quick fix I needed. Described as a Pumpkin Spice Latte for your face I couldn't agree more, it's made with ingredients such as organic pumpkin, glycolic acid & more. Once i felt that tingle on my skin, i knew this was about to be IT. I was noticeably glowing right after rinsing and skin felt moisturized as well. Must have? Yes.
Next their Witches Brew Toner
I barely get acne but sometimes when that time of the month comes Mother Nature comes through like here you go sis a nice hefty pimple for you to rock out with for a bit. I usually ride it out till it goes away but since I had the Witches Brew Toner why not try to use it right? Sprayed my face that night, pimple gone that morning, that's how it's done ladies and gentleman. Another win for Nola Skinsentials
Another fave of mines? Their Iconic Elixir
You have to say "iconic" in your best Joanne the Scammer voice for this because it really is. Now this product says it aids in healing acne scars and reducing oil production. I really just love it because the way my skin feels and looks after using is insane. Using an oil on my face I would be scared that more pores would end up feeling clogged and gross but that is NOT the case here. I feel like it adds that extra glow I've been craving for my skin.
Overall Nola Skinsentials is a winner in my eyes! If you're looking for new products for your updated skincare regime in the new year. They're the ones to go to, best part is that if you don't know what products would best work for your skin type they provide skin consultations to help any customer!